Adopt digital stamping and online case file management
Don't waste any time preparing the communication of your exhibits!
e-signum is an innovative, intuitive and flexible solution that allows you to create online a personal stamp and to place it, with a number and bookmarks, on exhibits. The exhibits can then be downloaded as a single file or as an exhibit per file, with a list of the exhibits.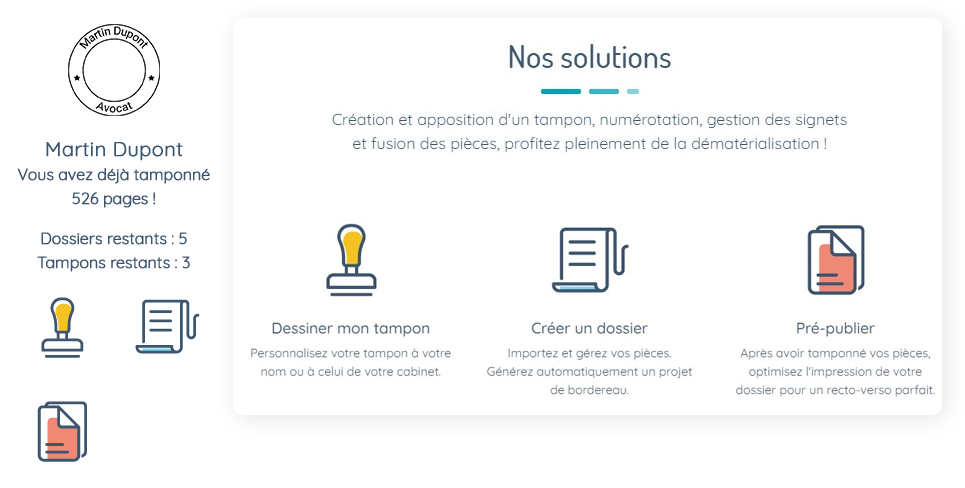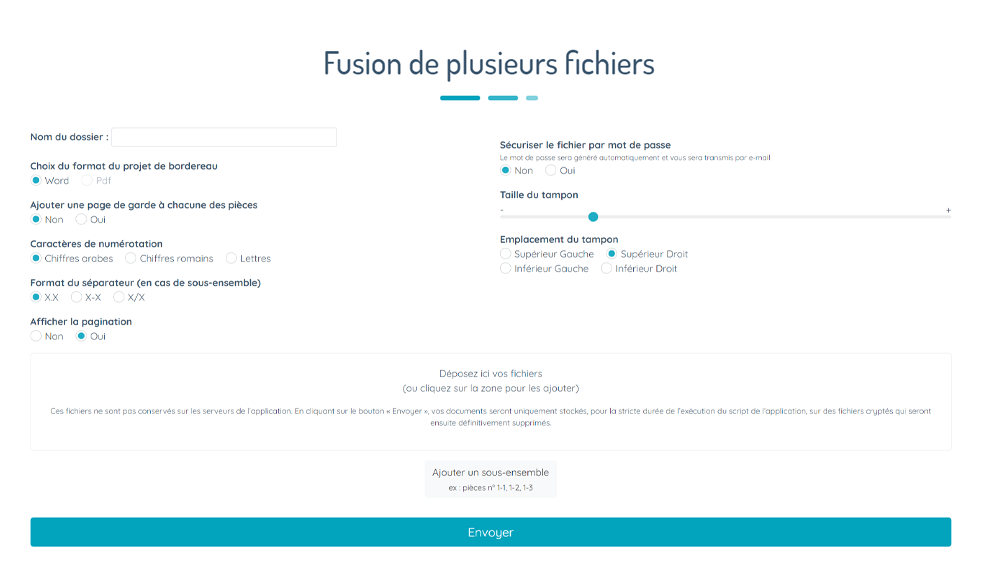 Simple, intuitive
and especially fast!
Create your digital stamp
Number and stamp your exhibits
Download your exhibits and list of exhibits
Free trial

for two complete case files
Registration is completely free and allows you to enjoy all features of e-signum for two case files, each containing up to 200 exhibits! If necessary, you can then credit your account with additional case files.


Subscription without commitment of duration,

and with no charge for inactivity
As our service is primarily intended for legal professionals and your needs may vary according to your activity, we have chosen not to charge for the months when e-signum is not used. The months when you use e-signum, the case files you can generate are unlimited!
A customer service
at your disposal
Our team is permanently connected to the instant chat, no chatBot with us! In case of urgent need, we do our best to answer you by phone or video conference. If your request is not urgent, we can exchange by email.

A fully online service. Confidentiality and security assured

Original files stored on temporary files and encrypted for the strict runtime of the script

A password can be added on request to the stamped and-merged exhibits

Storage until downloading and for a maximum of 10 minutes before definitive deletion
We do not keep any copies of your files.
Flexible pricing adaptable to your needs
Available to any user
creating an account
For individuals using
only one stamp
For professionals who need a library of stamps
"Pay-as-you-use" offers (no subscription required if you aren't sure that you will have a recurring need for the product)
for your occasional needs
Specify the content of the upper arc, the content of the lower arc and let the tool work for you! The font size automatically adjusts to the length of your text. It is possible to download your stamp in PNG format for external use.
Numbering, stamping and merging
e-signum's solution is very easy to use and has many options to adapt to your work habits. 3 in 1, all in a simple drag and drop!


Enjoy a full-featured interface to stamp your exhibits.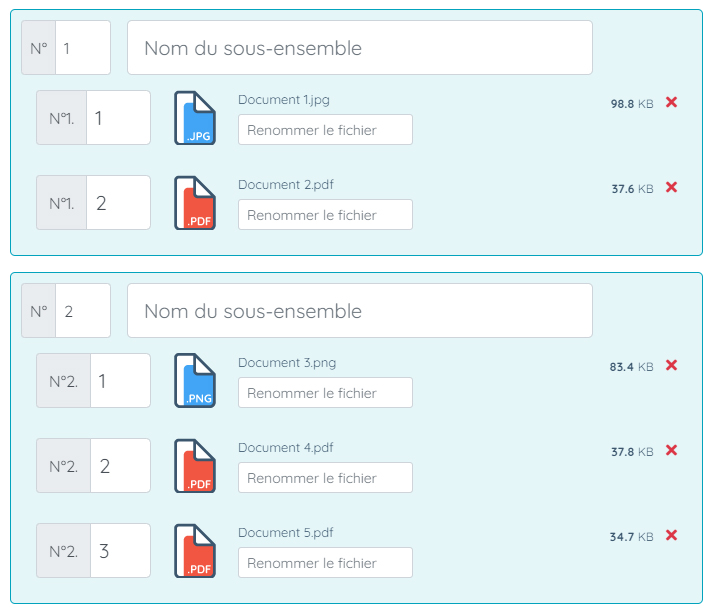 You will also be able to manage different families of exhibits (e.g. exhibits no 1-1, 1-2, 1-3, then no 2-1, 2-2, then 3, 4, etc.).
Upload and order your supporting documents with a simple drag and drop,
Customize the of your stamp or the way your exhibits are numbered,
Preview your exhibits and adjust the location of your stamp on each of them,
Download your exhibits as a single PDF file with each exhibit identified by a bookmark, or as a an exhibit by PDF file.
The documents generated comply with the legal, regulatory and ethical obligations of French lawyers, as well as with the specifications of the RPVA and Télérecours.