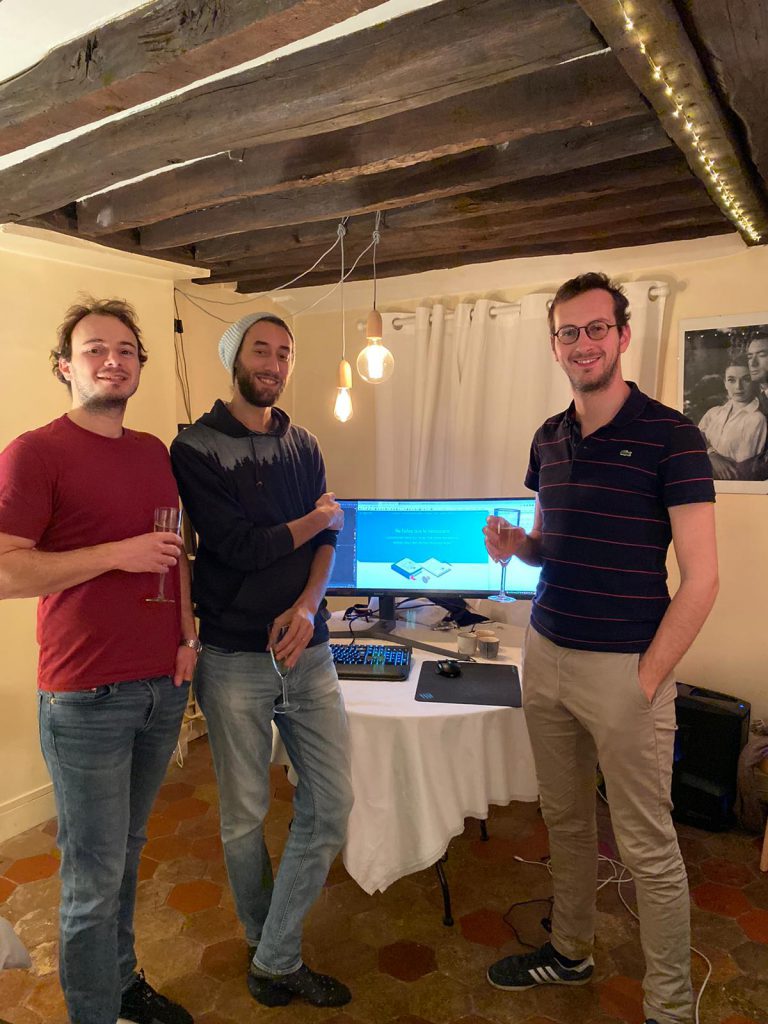 E-signum is a project led by three long-time friends: two lawyers and a web developer.
Corentin Soucachet has been a lawyer at the Paris Bar since November 2014. Trained in labor law (Master 2 in labor law from the Sorbonne University), he has built his experience by practicing in large Parisian law firms. He also teaches labor law at the Sorbonne. Entrepreneurial and thoughtful, he is one of the initiators of this project.
Franck Carpentier is a doctor of law (former teaching assistant). He is currently completing his training as a lawyer. Holder of three Masters degrees (public law, labor law and legal history), he also intends to work in labor law while continuing to teach at the university. Rigorous and dynamic, he has shared the desire to carry out an entrepreneurial project with Corentin for several years.
Rémi Windeck is a health executive, web developer and freelance graphic designer. He has been reconciling these different professional activities for several years and has already been able to work for many clients, creating several applications and websites. As a foreigner in the world of law, Rémi immediately grasped the stakes of this project as well as its specific requirements. His expertise and his outside viewpoint are a real added value in the construction of our solution.
The idea for this web application came from Corentin and Franck's wish to free themselves from time-consuming tasks they may have encountered during their professional experiences. Among these, the communication of the exhibits was one of those that caught their attention.
Noting that the time and cost represented by printing, stamping and then scanning the documents to be transmitted to the lawyers and / or jurisdictions were significant, they told Rémi of their desire to develop a simple, efficient and secure solution.
This is how the idea of developing a web application for legal professionals was born. The objective was to automate the following tasks in order to free up time:
Creation of a personalized stamp,
Stamping of uploaded exhibits,
Merge these different exhibits by adding bookmarks within a single document in PDF format,
Draft of the list of the exhibits in Word or PDF format.
The specifications were then very strict in order to respect the following commitments:
Compliance with the latest security standards,
Compliance with the legal, regulatory and ethical provisions relating to the communication of documents, in particular those laid down by the National Internal Regulations of the legal profession (RIN), the Code of Administrative Justice (CJA), the Code of Civil Procedure (CPC), as well as the specifications of professional platforms such as Télérecours or the Private Virtual Lawyers' Network (RPVA the French virtual private network for lawyers),
Access by the user only to the exhibits and the list of exhibits he has generated,
Confidentiality assured and possibility to encrypt uploaded documents,
Exclusive use of servers based in France,
Domiciliation of e-signum in France and application of European and French legislation, in particular in terms of data protection or taxation,
Low cost of using the application.
In short, we have sought to build the solution that we want to use on a daily basis to simplify the practice of the profession. We would like to share it with you.
Of course, the whole team is at your disposal to answer any questions you may have.